The Varicose Vein procedures, as well as, EVLT treatments, Sclerotherapy etc., are performed at our parent practice The Arizona Vein & Laser Institute! To speak with the Director of our facility personally just call us at (602) 298-VEIN (8346) or click on his name Dr. Kulbhushan K. Sharma MD, FACS, RVT…
What Are Some Of The Potential Causes Of Varicose Veins: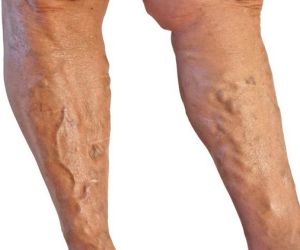 Weight gain and increase pressure on the abdomen area.
Jobs that requires long periods of standing can create vein problems.
Women can experience problems while pregnant.
If there are congenital heart issues that directly affect the valves.
The circulatory system is made up of Arteries that carry blood from your heart to the rest of your body. Veins return blood from the rest of your body to your heart, so the blood can be recirculated. To return blood to your heart, the veins in your legs have the challenge of working against gravity. Muscle contractions in your lower legs act as pumps, and elastic vein walls help blood return to your heart. Tiny valves in your veins open as blood flows toward your heart then close to stop blood from flowing backward.
Studies have shown that some pregnant women develop varicose veins. Pregnancy increases the volume of blood in your body, but decreases the flow of blood from your legs to your pelvis. This circulatory change is designed to support the growing fetus, but it can produce an unfortunate side effect which directly points to the enlarged veins in your legs. Varicose veins may surface for the first time or may worsen during late pregnancy, when your uterus exerts greater pressure on the veins in your legs. Changes in your hormones during pregnancy also could play a role. Good News, varicose veins that develop during pregnancy generally improve without medical treatment within three months after delivery.
The role our age plays is a big factor because as we get older, our veins can lose elasticity causing them to stretch. The valves in your veins may become weak, allowing blood that should be moving toward your heart to flow backward. Blood pools in your veins, and your veins enlarge and become varicose. The veins appear blue because they contain deoxygenated blood, which is in the process of being recirculated through the lungs.
Click Here To Personally Speak With Dr. Kulbhushan K. Sharma MD, FACS, RVT…