50% Off all Laser Tattoo Removal Packages. Prices start at $99
Ask about our Discounts on All Laser Hair Removal Treatments!
If your Tattoo has become a problem and you're asking yourself how much does it cost to solve this problem then you've come to the right place. We are a premier Tattoo removal Clinic with highly skilled doctors and clinicians here to help you with making the right decision to deal with your Tattoo issues regardless how small or large they are.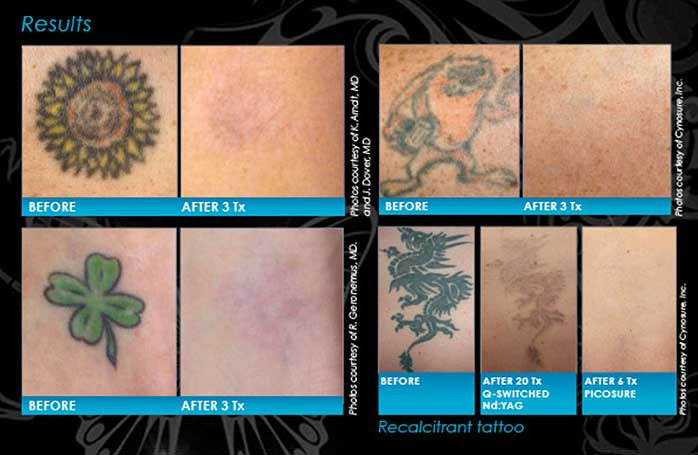 We have the right breakthrough technology for faster tattoo removals which is called PicoSure. It is the world's first picosecond laser for the effective removal of tattoos. It is now possible to erase unwanted ink more effectively than ever before. Also, you successfully removing difficult ink colors as well as previously treated tattoos. Your primary benefits will be fewer treatments, faster recovery time, and greater results when you choose our advanced laser technology.
About Us
We offer a FREE CONSULTATION and Price Estimate for removal of your tattoo at any one of our conveniently located locations.   All treatments will be performed at our Phoenix or Chandler locations. There, you will be greeted by one of our best Laser Technicians.  Our technician will walk you through the entire process and answer any of your questions.
Our laser centers have been in the valley over 20 years and our surgeons have performed thousands of laser treatments. At our tattoo removal center, therefore, you are backed by the most experienced doctors to take care of any rare complications.  Your tattoo removal procedure will be performed by top medical professionals.
Pricing
Our Competitive Price Guarantee
Here is how it works.
Bring in the written price quote from any competitive tattoo removal service.  We will match that price and perform our removal services with fewer sessions.  We are able to do this because of the advanced laser technology we use in the hands of our highly skilled technicians.
Our pricing is based on the size of the area to be treated.  We use the Kirby-Desai Scale that was created by doctors to help doctors, laser technicians, and aestheticians to accurately estimate the amount of laser tattoo removal sessions needed to remove a tattoo regardless of size, color, or shape.  With this tool, we are able to create a Customized Plan for the removal of one or more of your tattoos.