What is a Fraxel?
Fraxel treatment is a revolutionary new way to address the most severe signs of skin damage without the risks of complications and prolonged downtime of other ablative laser procedures. Fraxel uses a high-intensity carbon dioxide (CO2) laser to vaporize unwanted tissue, but thanks to pioneered fractional technology, the treatment delivers dramatic results with significantly faster recovery time than non-fractional treatments.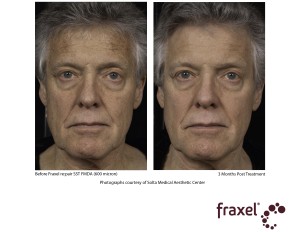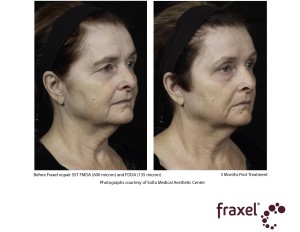 Simply put, Fraxel® treatment promotes your skin's own healing process, resulting in natural rejuvenation that removes years from your appearance. Depending on your skin, you can decide how you want to attain the remarkable results Fraxel treatment delivers. Aggressive treatments require fewer sessions and result in more post treatment side-effects – meaning a few days of social downtime. Less aggressive treatments accomplish the same results, with a few more treatment sessions and less pronounced side-effects. For some types of skin and skin conditions, gentle and/or fewer treatments are best. Fraxel treatment was specifically engineered to give your physician complete treatment control, based on your particular needs.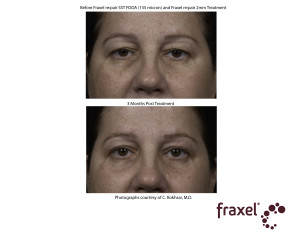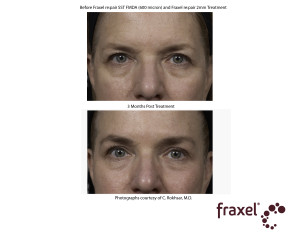 The laser creates tiny areas or columns of damage in the skin structure which provokes the skin to start healing itself – and therefore creating new cells and new collagen. Fraxel laser treatment delivers the potency of ablative treatments with the gentle safety of non-ablative lasers. So you get the best of both worlds: dramatic results and less downtime. The result is natural stimulation of new collagen without the fear of downtime.
A minimum of three Fraxel® laser treatments is usually recommended for optimum results (at least two weeks apart) but you will begin to feel the difference in your skin as it gradually becomes softer, smoother, tighter and fresher after your first Fraxel treatment.
Fraxel Candidates
Skin Science That Delivers Dramatic Results
The best candidates for Fraxel may be experiencing some of the following:
Skin pigmentation or skin scars
Premature aging
Fine lines around your eyes
Uneven coloring and bronze spots caused by aging
Lines or wrinkles on the chest
Loose or sagging skin
Enlarged Pores
Acne scars
Rhytides
Actinic keratosis
Vascular dyschromia
Benefits of a Fraxel Procedure
Fraxel is a treatment which has been approved by the FDA and offers these benefits:
Non-invasive treatment
Revives skin leaving it looking radiant, smooth and even
Diminishes pigmentation and brown spots, firms the skin, improves skin tone and texture, reduces the appearance of scarring and reduces wrinkles around the eye area
Restores a more youthful and healthy glow
Results are immediate and progressive with optimal improvement seen in 2 to 3 months
Very little discomfort
May resume normal activities within 24 hours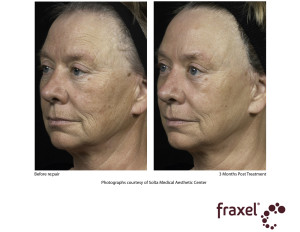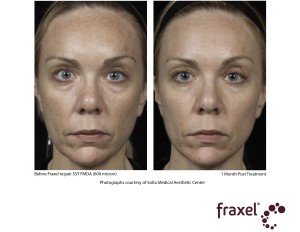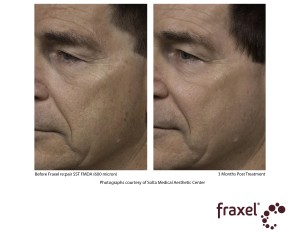 Fraxel Procedure & Recovery
Prior to the Fraxel procedure, you will meet with a doctor a for an in-depth consultation regarding your skin and expectations. During treatment, the laser is applied to the surface of the skin using a hand-held device, which works on repairing damaged skin by treating only a small fraction of skin at a time. This means that the surrounding area of healthy tissue is unaffected. Most patients describe an increased sensation of heat during treatment, but this is minimized using topical anesthesia that is applied before the procedure and a cooling mechanism built directly into the hand piece for patient comfort. After the treatment, you may feel minimal discomfort that is comparable to a sunburn that usually subsides in one to three hours.
To learn more about the benefits of Fraxel and whether this is the right procedure for you, please schedule a free consultation at Vein Med Solutions in Glendale, Arizona.